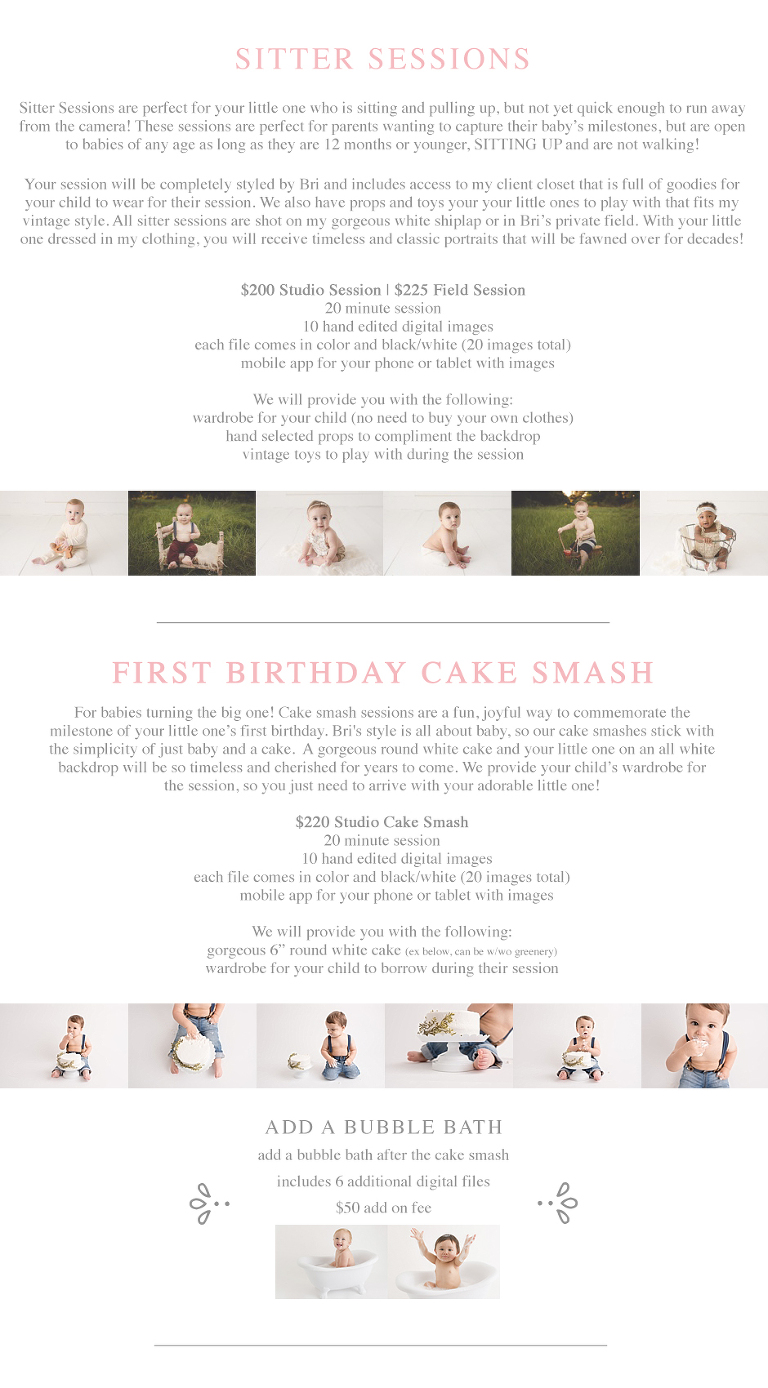 As Houston baby photographer, I love to spend time capturing your little one's goofy grins and perfect pout while shooting on one of my traditional backdrops (for outside sessions, we will be in a private field in The Woodlands, Texas). We will also use my collection of simple props and organic knit shorties to show off their sweet rolls!
All my baby photography sessions include your little one to be dressed in one outfit of your choice and then we will end the session with your baby nude or in shorties so we can see every roll and inch of sweetness!
As a Houston baby photographer, I feel it is important to offer All-Inclusive with no further purchases required. Each gallery has a set number of digital files (with a print release) that comes with your package. Sometimes additional files are included in your gallery and if you wish, can be purchased for an extra $10 per image. If there are extra images in your gallery. We give you the ability to pick your favorites to fulfill your package first and then make any additional purchases if you wish. 
How does the selection process work? Once your session is finished, I will send you an email with unedited photos for you to view and select from. Once you make your selections, I then proceed with my final edits. Your selection needs to be completed within 3 days in order for me return your files within 3 weeks from your session date.
 Available session times are limited and book quickly, so please sign up as soon as you know you'd like a spot! We start all our weekend sessions around 9am. Our weekday studio sessions are shot every afternoon starting at 3pm. Please click on the link below to secure your session! Feel free to book as many sessions in advance as you'd like!
Please use the following links to book your baby photography sessions with us!
WEEKEND STUDIO Baby Sitter Session or Cake Smash Session
WEEKDAY STUDIO Baby Sitter Session or Cake Smash Session
When is the best time to book a baby sitter session: 6 months to 12 months. All babies hit their sitting milestone at different times and I recommend booking when baby is 6.5 – 12 months old so your baby can sit unassisted. 
When is the best time to book a cake smash session: if you need to use these images for invitations or for decor at the party, it's best to book your child's cake smash around 10 months of age. I need at least 3 weeks to turn your images around. If timing is not important, you can bring your little one in at any time! 
Sample baby & cake smash Galleries and Session Videos:
studio baby sitter session gallery; video of a studio baby sitter session
outdoor baby sitter session gallery; video of an baby outdoor sitter session
 studio baby cake smash session gallery;  video of a studio baby cake smash
 All sessions are for ONE baby only. Please book a family session to include mom, dad or siblings. 
Digital files included in each session are half in color and matching b&w conversions. Example= 20 files is 10 color and 10 b&w conversions.
Bri Sullivan is a professional Houston Baby photographer that specializes in maternity, newborn, Family,  cake smash and baby photography in Houston and surrounding areas including but not limited to Old Town Spring, Spring, Tomball, Cypress, Magnolia, Conroe, The Woodlands, Pearland, Sugarland, Montgomery County and Harris County. To view her baby photographer pricing and to book a session, please click HERE.
ga('create', 'UA-51803845-1', 'auto'); ga('send', 'pageview');

Please follow us on: Facebook, G+, VK, Stumble upon, Tumbler, Linkein, you pic