Aaron and Allison's little boy, George, came into my baby photographer studio for a sitter session. This is a session where the baby is able to sit and crawl, but can't stand and run away from my camera. It's such a fun time with these mobile little models. This little guy was 10 months old.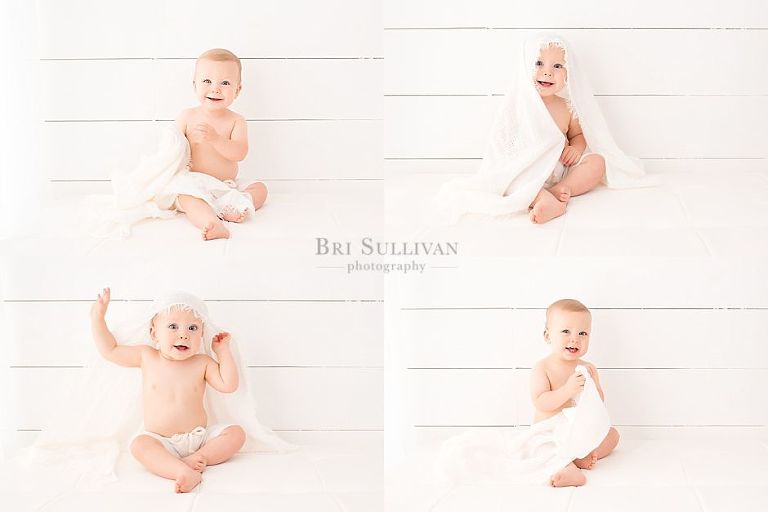 George's parents told me before the session that he's a very happy baby. He waves, loves to be held and hugged and doesn't have stranger anxiety at all. He'll even reach out for hugs from strangers! He's a curious guy who crawls incredibly fast especially when he sees something he isn't supposed to have in his tiny hands like cords or dog food. He sounds like he's a blast, but at the same time, exhausting!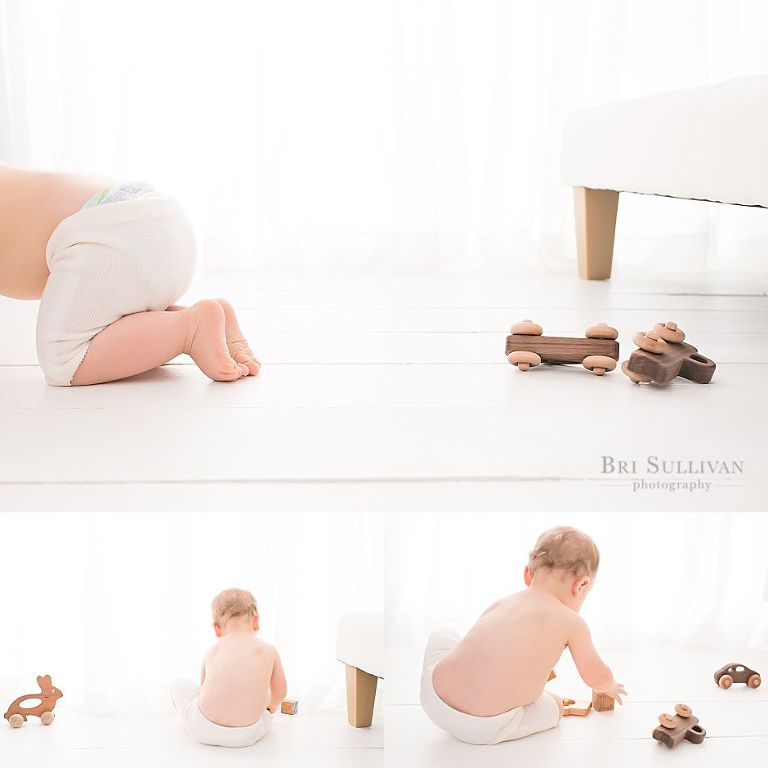 His parents weren't kidding. He's such a happy guy, and he was full of facial expressions. They were a joy to capture. From the moment he was brought into the studio, he was full of smiles and giggles. Aaron and Allison are great parents to George. It's clear in his easy-going and happy nature.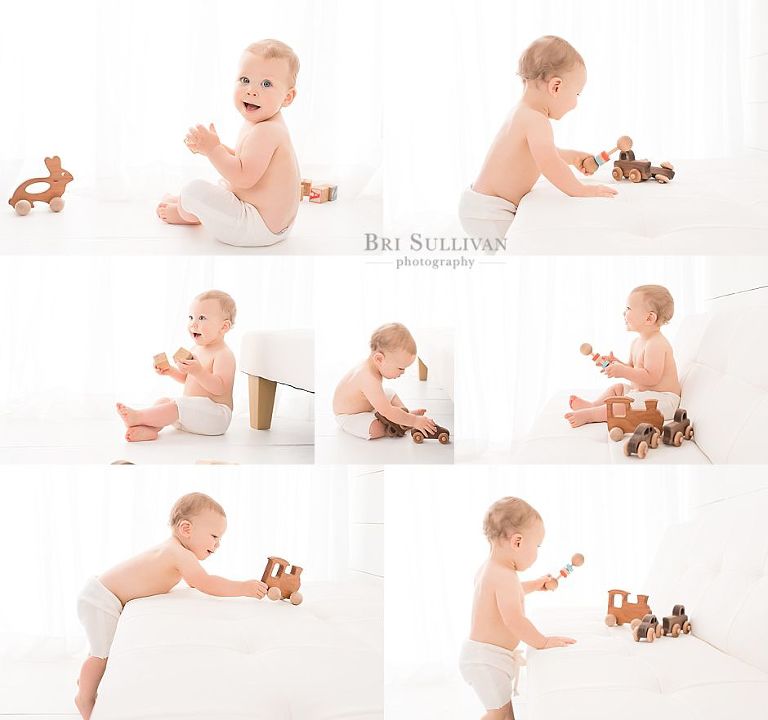 For his session, Mom borrowed clothing from the wardrobe we keep at our Houston baby photographer studio. These are clothes that I know will photograph well since I chose them for that very purpose. It really made the session pop, and I love when parents choose to go with the studio clothing.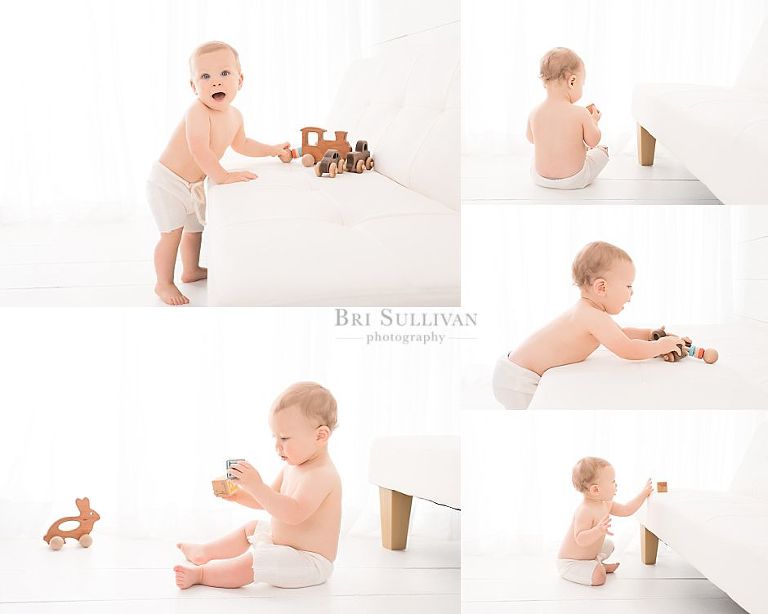 This sitter session has to be one of my favorites of all time. George was a delightful model, and I couldn't stop taking pictures of him. If I could have tucked him into my camera bag and kept him, I would have!
In my Houston baby photographer studio, we have a variety of session choices available. Parents can pick week-old newborn photos to sitter sessions and cake smashes to family outdoor photographs. Sitter sessions have a warm place in my heart because the babies are full of personality and can't get away from my camera!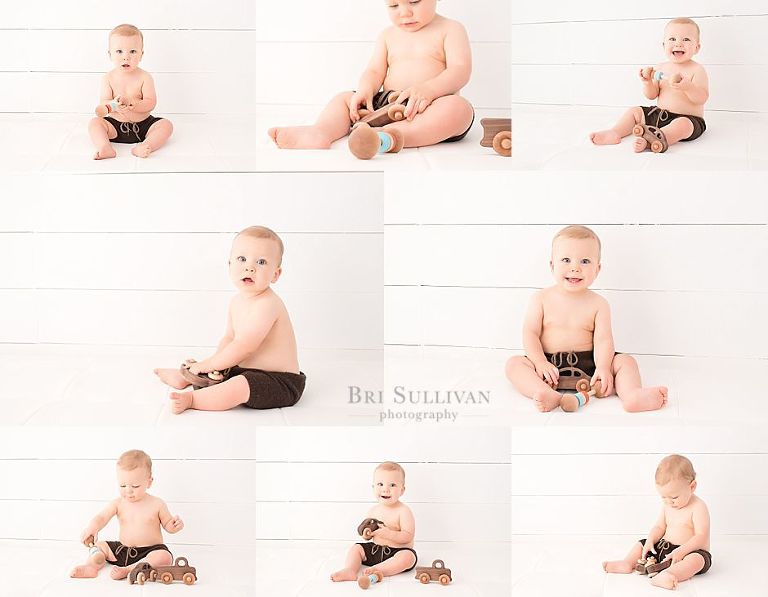 Our style of photography is fresh, light and pure. We want to give my clients exactly what we would want on my own walls at home. We like to freeze time and photograph natural moments in a simple and organic way. To ensure that the entire focus of the image is on the baby and that the images won't date, or go hugely out of fashion and give you memories that are freezing time.
All our session are done in our Old Town Spring, Texas baby photographer studio. We specialize in newborn photography performing over 300 newborn sessions each year. We always, put the safety of your little one first by always having a dedicated assistant/spotter at every newborn session. Who's only job is to ensure your newborn is safe and secure during their session with us.
We also offer professional prints, canvases, metal prints and custom wood photo blocks at competitive pricing with local department stores. We do this because we want all our clients to have affordable professional products at their fingertips. Also, if you book your newborn session with us, we will always give you a 10% discount on any future session with us!
Bri Sullivan is a professional Houston baby photographer. She specializes in maternity, newborn , cake smash and baby photography in Houston and surrounding areas including but not limited to Old Town Spring, Spring, Tomball, Cypress, Magnolia, Conroe, The Woodlands, Montgomery County and Harris County.
follow us on: Facebook, G+, VK, Stumble upon, Tumbler, Linkein, you pic

ga('create', 'UA-51803845-1', 'auto'); ga('send', 'pageview');