The latest little cutie in the baby photographer studio was 11 months, and having her cake smash session. Her name is Journey, and it's such a beautiful name. Journey's parents, Xavier and Jeanene named her well since they say she's a little daredevil who loves to climb and get thrown into the air.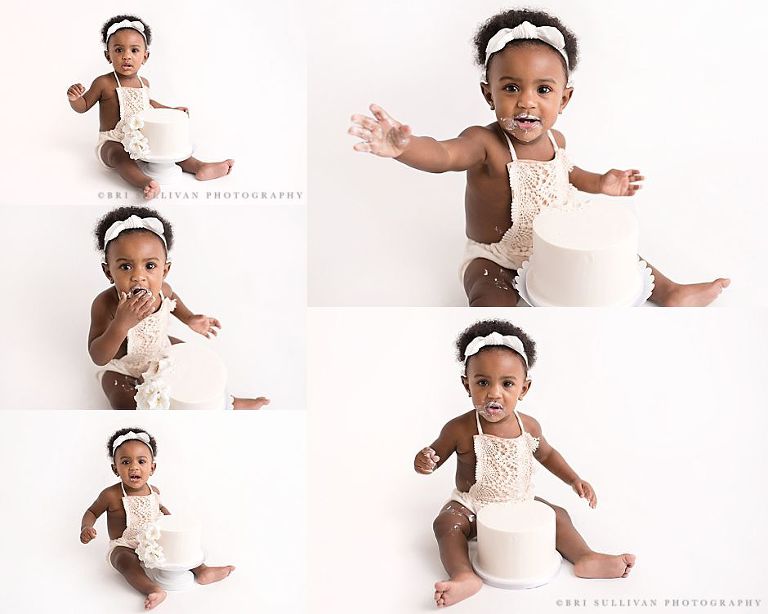 Her parents say she's an incredibly happy baby unless she's hungry, and that's true for many of us! She loves being held, but is always eager to explore new places. When the music is playing, she's singing and dancing, which I saw first hand in the baby photographer studio. It was a joy to see how Journey and her mom interacted the entire session. They were singing, dancing and smiling at each other the whole time.
  This cake smash session was such fun. Mom booked the cake smash session, which includes bringing your own cake for the little one. Many parents use these photos for invitations to the first birthday party. They'll bring in cakes and small decorations that reflect the theme of the party. In other cases, they want a simple cake and simple clothing. So, to really highlight their baby hitting such an exciting milestone.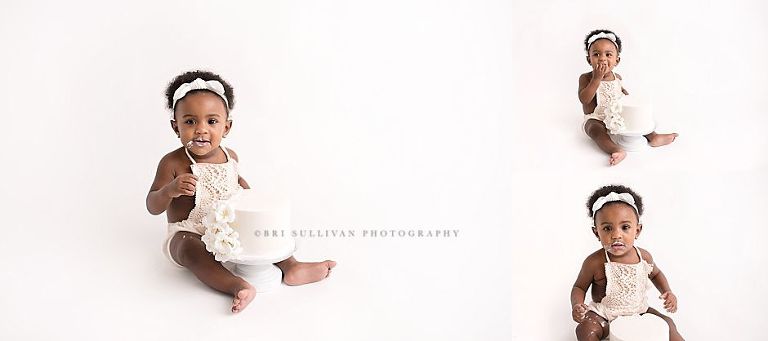 Journey's Mom decided to bring in a lovely cake with the most beautiful flowers on the side. It was a simple, classic cake that her daughter couldn't wait to dig into as can be seen from the images. Her little outfit and headband was perfect. They brought out this little girl's innocence as she hit her first birthday while not overpowering her personality. She was such a thrill to shoot.
  I love having these cake smash sessions in the baby photographer studio. I love all the variety I can offer my clients from newborn to sitter sessions to cake smashes as well as family sessions. It's my hope that I'll see Journey and her family again soon for some family sessions in the new outdoor location we have!
  Our style of photography is fresh, light and pure. The session focuses on photographing the natural moments in a simple and organic way. We want to ensure that the entire focus of the image is on the baby. That the images won't date, or go hugely out of fashion. By keeping the set simple and all about baby means we do not use a lot of props and there may only be a splash of color if any at all. We completely veer away from any bright colors and decorations.
 All of the clothes at the studio are very neutral and most of them are one of a kind. We keep jeans with suspenders and knit shorties for the boys and gorgeous vintage rompers with lace and vintage silk for the girls. We are all about baby on white, belly buttons showing, rolls and toes. The clothing we provide will let us capture all of your little one's best features. Including their adorable back rolls, chunky legs, and teeny tiny toes. 
  We have found that specializing in one style of photography gives us the ability to offer our clients: Timeless Memories. You will walk away with gorgeous, timeless images of your child that will be fawned over for decades to come; Consistency – although every image is different, they are all of the same standard and styles. We realize our style is not everyone's cup of tea. But, we want our clients to pick us as their photographer. Because we specialize in the style of photography they are looking for.
  There are a lot of photographers offering studio, outdoor, lifestyle, family, older children, babies, pets, weddings, christenings, bright colors and all white setups. But, trying to be everything to everyone, means that they do not specialize in one area like we do. Which is photographing children in a style that stays consistent. So, our clients know exactly the kind of photographer they are hiring. In short, we would rather be seen as exceptional to a few, than mediocre to many.
For information on newborn, baby milestone and family sessions offered by the studio, please follow the link below;
https://cherrystreetstudios.pixifi.com/inquiryform
Bri Sullivan is a professional Houston Newborn photographer. She specializes in maternity, newborn, cake smash and baby photography in Houston and surrounding areas including but not limited to Old Town Spring, Spring, Tomball, Cypress, Magnolia, Conroe, The Woodlands, Pearland, Sugarland, Montgomery County and Harris County.
ga('create', 'UA-51803845-1', 'auto'); ga('send', 'pageview');
Follow us on: